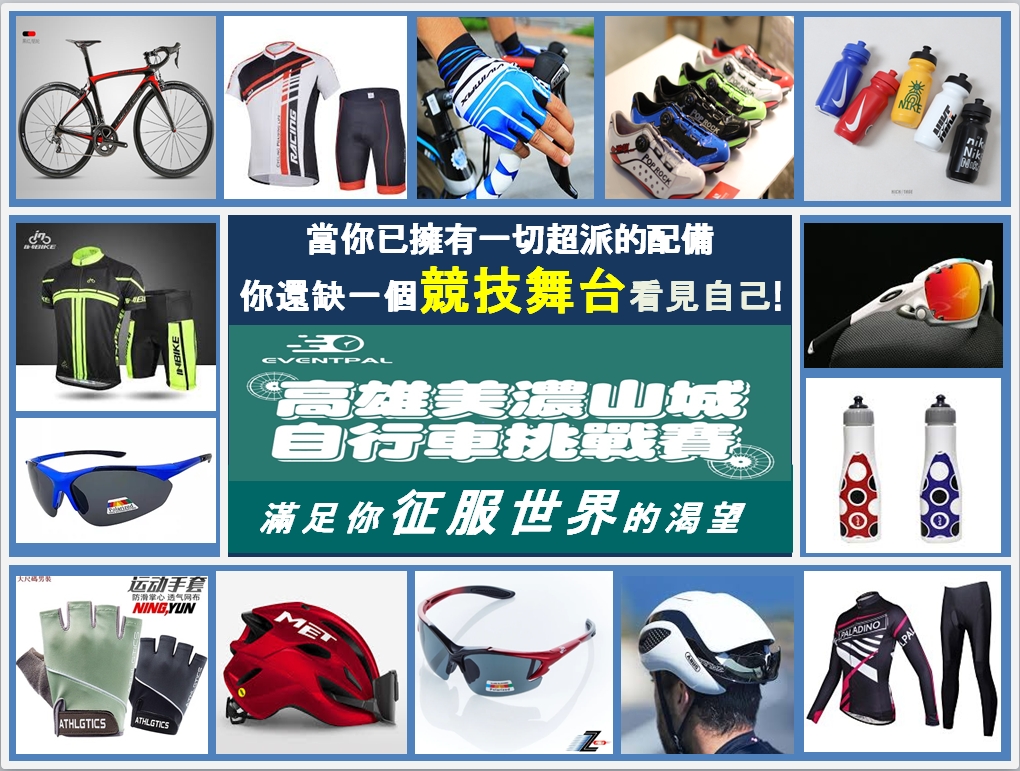 擁有單車的男人,是一個永遠不願意長大的小孩!
只要坐上單車,踩上踏板,就開始追逐征服世界的夢想。

通往目的地的路上,會收集許多讓自己看起來超派的裝備。
不論是碳纖維自行車、Shimano的變速器、還是帥氣到不行的車衣、車褲、卡鞋、安全帽、手套;最重要的還是收集征服世界的戰場。

沒有競技舞台,就沒有征服世界的樂趣;沒有不斷挑戰的賽事,就沒有看見自己的機會。
儘管有時會受傷,甚至會挑戰失敗!

 
這些過程,正是征服世界最重要的樂趣
所有完賽獎牌、紀念車衣與紀念完賽禮,只不過是小男孩日後說故事的證明!

來吧!
喚醒心中沉睡已久挑戰賽事的原力
重新回到內在小男孩的狀態
高雄美濃山城自行車挑戰賽陪你勇敢踏出征服世界的第一步

征服世界的通關連結:

https://eventpal.com.tw/kaohsiungmeinong.html

 
A man with a bicycle is a forever young boy who refuses to grow up! As soon as he sits on the saddle and pedals, he embarks on the journey to chase his dream of conquering the world.
On the way to the destination, he collects a plethora of equipment that makes him look super cool. Whether it's a carbon fiber bike, Shimano gears, or the incredibly stylish jerseys, shorts, cycling shoes, helmets, and gloves, the most important collection is that of battlefields to conquer the world.
Without a competitive stage, there is no joy in conquering the world; without constant challenges in events, there is no chance to discover one's potential. Even if there are setbacks and failures along the way!
These experiences are the most essential pleasures of conquering the world. All the finishing medals, commemorative jerseys, and finisher's memorabilia are merely evidence for the boy to tell stories in the future.
So, come on!
Awaken the long-dormant spirit of challenging events within your heart.
Reconnect with your inner little boy.
The Kaohsiung Meinong Mountain City Cycling Challenge is here to accompany you in taking that courageous first step towards conquering the world.
Conquer the world through this link:
https://eventpal.com.tw/kaohsiungmeinong.html